The castle at Chora is a place full of history and full of life. Byzantines built it on 11th century a.D. and is inhabited until today.
It was used as a fortress initially. At the period of Genoese rule the castle was extended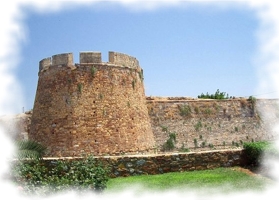 and it wasn't used only for military uses anymore.
The castle has three gates. The walls were tall and vertical. It had four or five towers while the dike surrounded the castle and had water only near Porta Maggiore. The rest of the dike was dry. The castle had double walls at the areas near the land.
In the castle were beautiful squares, churches and great buildings. The architectural and land-planning interventions of the Genoese included the creation of loggia for the tradesmen, as it was used in Italian cities.
On 1566 the Turks banished the Christians from the castle. The castle sufferent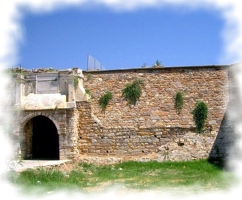 many destructions on 1694. Hatzi Imbrahim Passa tried to repairs it but degraded the castle's architectural aspect to a large extent.
The castle suffered a second wave of destruction at the duration of the Greek Revolution on 1822 when the Turkish army set it afire.
What the Turks had left was destroyed by the earthquake of 1881. The jewish district was also destroyed, and later it was moved outside the walls.
After the earthquake, serious repair works hadn't been done. Of course, the military value of castle was lost, leading gradually in desolation, which prevailed for a long time. The repair works in the dues of 19th and in the beginning of 20th century changed too much castle's form, especially near the harbour.
Systematic restoration work was done lately. As a result they had the re-establishment of Justinianis'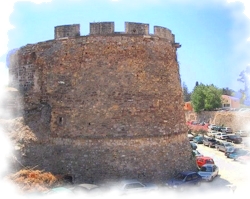 building and repair the walls near the sea.
The castle was made by the Byzantines. It passed to the Genoese and from them to the Turks. Finally it got back to Greeks. Each of them, alternated parts of castle's form and also the use of the castle, leaving their architectural footprint.
Visiting the castle, is not only a virtual travel in centuries of history but also a tour in a castle with perfumes of many different cultures.