Kastrohoria or mastichohoria are located at the southern region of Chios. They are medieval villages that were built during the Genoese rule between 13th and 14th century. They were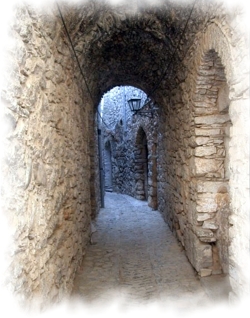 used to protect mastic producers and their families from the pirates who coveted the unique and precious gum.
They were built mostly on small valleys far away from the sea and their architecture differs a lot from the architecture of the rest island. First of all, they were built around central towers.
The external walls of houses form a defensive wall to protect the village. The defensive wall was usually square with semicircular towers on the corners.
Gates provided access to the interior of the settlement however the gates do not exist today. The streets of the settlements are paved and narrow and the residences are stuck the one next to the other. The main streets lead to the square of the village, and the streets are covered with residences or with arcs (like bridges over the street), that allow the residents to move from one part of the village to another without using the streets. From there took by assault those hostiles who moved in the streets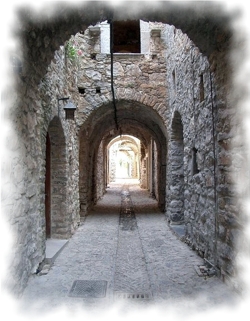 village. Another way of defence was the existence of impasses in the narrow streets. That forced the hostile teams to be separated in smaller groups and also to lose their way to the central tower.
The central tower is on the center of the village and that was the last shelter for the residents of village if the pirates had taken over the village. Usually this tower was surrounded with a wall that had four corner towers.
All the village is made of stone. Most houses are two-storied with small windows at the first floor that are open to the interior of the village. There weren't any windows on the ground floor. Those spaces were used as warehouses, stables or auxiliary rooms. The center of the house is found at the first floor. There also was the "solar" that was a clear space that provided airing and lighting to the residence. That was the most important department of the house since, being stiflingly closed, they had problem of airing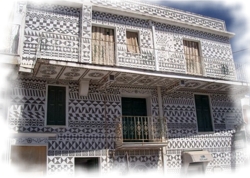 and lighting. The whole structure of the residence reveals Byzantine origin.
People live in these villages till today without many external architectural changes so as to maintain their medieval character. The bigger medieval villages are Armolia, Mesta, Pyrgi, Olympoi, Vessa, Kallimasia and Kalamoti. The Pyrgi and Mesta have kept more their fortification character than the others.
If you want to walk in a village built during the age of pirates, if you want to let your imagination travel in narrow streets, to feel stories for battles that each stone of the village has endured all you have to do is visit the splendid kastrohoria!