We leave behind us Chora and take the road to the west. A road, with turns that remind you the moves of a snake, through wild mountains and ravines, covered with trees, leads us to Anavatos, the newest kastrohori in Chios.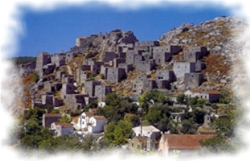 Even the name of the village indicates that access to the village is very difficult. It is built at a wild landscape with abrupt slopes, precipices and rocks. The village can be approached only from the north-east. Its location make us believe that it was used to control the west coast of the island, during the age of pirates.
The first residents of the village must have been lumberjacks, who were sent here by Konstantinos Monomachos to build Nea Moni.
The houses (like in every kastrohori) are two-storied with small windows, built the one next to the other. In the entry of the village, a gate existed and a two metres tall wall.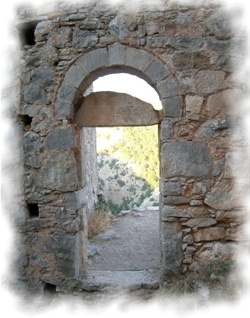 Near the gate was a three-storied building with 15 metres height. At the ground floor of the building was the olive press, whose burrstones are maintained until today. At the first floor it was a school, while above existed a reservoir of water. Up on the village was the church of Taxiarchs. Unfortunately today only the southern walls of the church exist, however restoration work is being made.
The residents of Anavatos are in the agricultural business and in particular with viticulture, the production of olives and peanuts. After the 18th century tobacco became one of the products of the area when the locals learned the technique of tobacco cultivation from the refugees of Ionia.
The difficult life conditions, the ferocity of the landscape and the hard economic situations molded proud people, heroic, hard-natured and with particular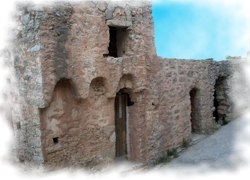 love for freedom and their land.
Thus in 1822, when the Turks occupied the village, women and children fell off the cliff to avoid the captivity and the dishonour, like the women of Zaloggos.
Like on other places of Chios, the earthquake of 1881 made a lot of destructions to Anavatos.
The village today is almost abandoned. There are only a few permanent residents. But most buildings are maintained in very good condition and many people call the village Mystra of the Aegean.
Outside the village is the war memorial for the battle of 1822.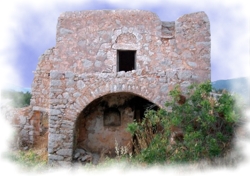 Opposite of the monument you can find the temple of Saint George, a temple that was made on the 16th century and church's murals are maintained in very good condition.
Leaving the Anavatos and going to the beach of Elinta, we follow a road with historical value. The Greek who survived the battle of 1822 followed this way to escape.
When you are in Chios you must go on an excursion to Anavatos. Anavatos' wild beauty and great history will leave their sings on your heart. Walk in the narrow uphill paths and feel this land's heroes welcoming you to their land.