One of the oldest villages of Chios and kefalohori of Voreiohoria is Volissos. Built upon a hill, between sea and olive trees, waits us to walk in back streets and feel the Byzantium.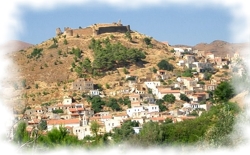 In the years of Byzantium, Volissos met economic growth and glory, but Volissos has older history. It is said that here Glafkos brought Homer to be the schoolteacher of the children of Chios.
Acme of Volissos began after the Middle Age. The families of kings and generals choose this place to live. General Velissarios, lived here the last years of his life and built the acropolis of Volissos. The acropolis had six towers on the stone walls, that even today cause awe to the visitor.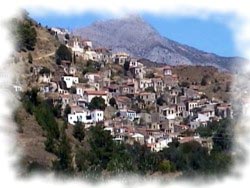 The reign of Genoa followed, and castles were built in Volissos and towers to oversee the plains and the Aegean sea.
The vineyards of Volissos are part of its history. The grapevines of Arioussia produced the famous "Arioussian Wine". Those vineyards didn't escape the wrath of the Turks on 1822, when they set them afire. Few vineyards survived, and can be found at the village Kourounia north of Volissos.
The houses are build austerely and plainly.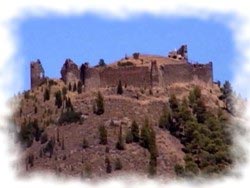 The streets are narrow, and most of them are paved with pebbles from the beach. Almost every house has a pergola. Windmills and watermills are scattered around the village. Byzantine churches that bring you closer to your Creator.
Fortunately Volissos today does not differ a lot from the past. Most houses have been renovated. New houses have been built, with respect however to the history and to the physiognomy of the place.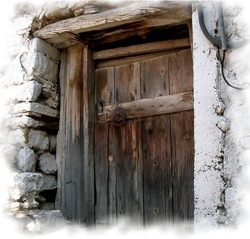 Very near the village, just 8 kilometres distance, is the monastery of Saint Markella. Built in a wonderful gulf allows us to combine the visit to the monastery of Chios' Patron Saint with a swim in Aegean's blue waters.
Other beautiful beaches in this region are Managros, Magemena, Lefkathia, Limnos, Lampsa and Gonia.
We cannot omit to mention the harbour of Limnion, that can be found 2 kilometres away from Volissos. From there we can travel to Psara, coastal.