he island of Chios and the two islands Oinousses and Psara constitute the Prefecture of Chios.
Chios is on the north-eastern Aegean few kilometres away from the near-Eastern coast.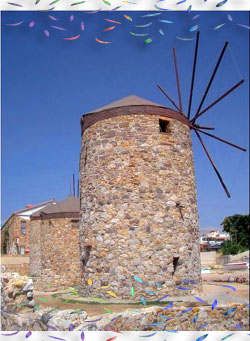 It 's the fifth bigger island of Greece 841,58 km² with 213 km coast length, coasts known for their deep blue water. According to 2001 census Chios' population is 53.052 people. Oinousses have 686 residents and Psara 438.
The prefecture is constituted from 10 municipalities: Chios, Omiroupoli, Kardamyla, Kampohora, Mastichochoria, Amani, Ionia, Saint Minas, Psara and Oinousses.
Capital of island, is the beautiful city of Chios, and is called Chora by the locals. Chora is located almost in the middle of eastern coast, 23 km² big with 22.894 residents.
The 52 beautiful villages are adorning the island, and each has a personal character. According to their geographical placei, they are separated in 3 big teams: the southern or Mastichochoria, the northern Voriochora, and Campochora.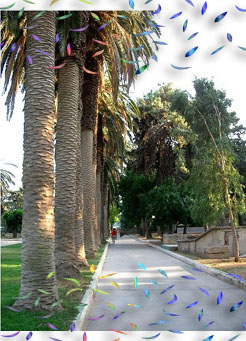 The capital is the main harbor of the island and other harbors are on Mesta, Lagkada and Marmaro. There are also smaller marines capable of supporting small sailing vessels.
The shipping of course has a major role in the economy of Chios, with continually increased labour. On the other hand, agriculture and farming are loosing ground. The 8% of active population are occupied in manufacturing, 15% in services and tourism and the 75% in the shipping bussiness directly or indirect.
The cultivated ground of Chios is roughly 167.000 acres from which only 13.500 are irrigated. Only in Chios and more specifically in the southern region, the famous mastic flourishes and is cultivated. The annual production of mastic is hundred twenty tones, and is exported in many countries especially to Japan.
There are many cultivations on Chios, like citrus fruits and mainly mandarines, about the 20% of the total Greek production.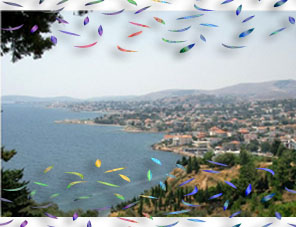 Fish breeding is a new and developing sector of Chios' economy. And the are a lot producers of unique Chians sweets. On Keramos there are expoitable layers of antimony and hot springs near Agiasmata.
Chios' climate is mild Mediterranean with north, north-western winds and medium temperatures, 28 or 29°C. The winter is easy and usually there are no rainfalls during summer.
Chios doesn't have the heavy tourist development of other Aegean islands, so there's a high level tourism, with high standards services offered by bussinessmen and the authorities of Chios.